News & Updates
---
CPS Foundation Delivers Grant to National Outreach Committee
June 2021
The CPS Foundation provided a $10,000 grant to the CPS-ECP Educational Department's Outreach Committee for upgrading and expanding the use of the current Moodle platform which is used for both CPS-ECP Courses and Operations Training.

This funding was the result of an application received from Ottawa Squadron on behalf of the National Outreach Committee and supported by the National Educational Officer.

This grant was a matching grant made possible by a generous donation to the Foundation by Ottawa Squadron in the amount of $5,000, for which the Foundation is very appreciative.
---
Funding for National Membership Recovery Project
December 2020
The CPS Foundation provided a $33,600 grant to CPS-ECP in December 2020 to fully fund a National Membership Recovery Project planned for implementation during the Winter/Spring of 2021.

This funding was the result of an application received from the CPS-ECP National Membership Committee Chair, Bob Parke and supported by the CPS-ECP National Administrative Officer, Don Macintosh to facilitate efforts to recover CPS-ECP Members who had not renewed their Membership for one reason or another since 2018.

This included dedicating staff to directly assist members who have been experiencing technical difficulties accessing their on-line profiles within the CPS-ECP database.

We are pleased to be able to support a program that will provide such direct assistance to the CPS-ECP Membership.
Bob Parke the National Membership Officer (right) receiving funding for the National Membership Renewal Project from the Chair of the CPS Foundation Larry Hicks, on behalf of the CPS Foundation December 2020.
---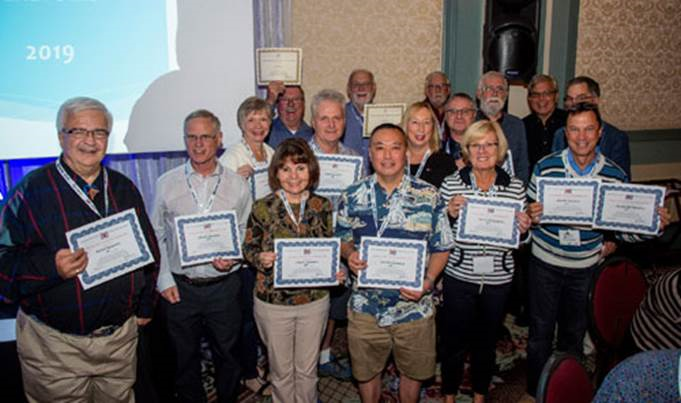 Recipients of Honour Roll Certificates at the 2019 CPS-ECP National Conference AGM held in Victoria, B.C. October 2019.
---
CPS Foundation Continues to Support New CPS-ECP IT Program
October 2019
The CPS Foundation donated $100,000 to CPS-ECP during the 2019 National Conference held in Victoria, B.C. in support of the new CPS-ECP IT Program. This increased total contributions from the Foundation for this program to $270,000. This $100,000 donation was in response to a request from CPS-ECP to cover budgeted costs of the IT System, and was part of a commitment from the Foundation to provide $100,000 up-front in 2019.
C/C Charles Beall (right) accepting the cheque from CPS Foundation Chair John Hinksman.
---